CINiBA
The Scientific Information Centre and Academic Library
location: Katowice, ul. Bankowa
project: 2002, competition, 1st prize
design: 2002-2004
construction: 2009-2011
The Silesian University is currently housed in a complex of buildings adapted from the facilities of the former Teachers' Training College. This unpremeditated development did not suitably reflect the prestige of this institution which is well-renowned throughout Poland. Thus, the design of the new library has become a catalyst for establishing a new campus redevelopment plan to be implemented in the coming years.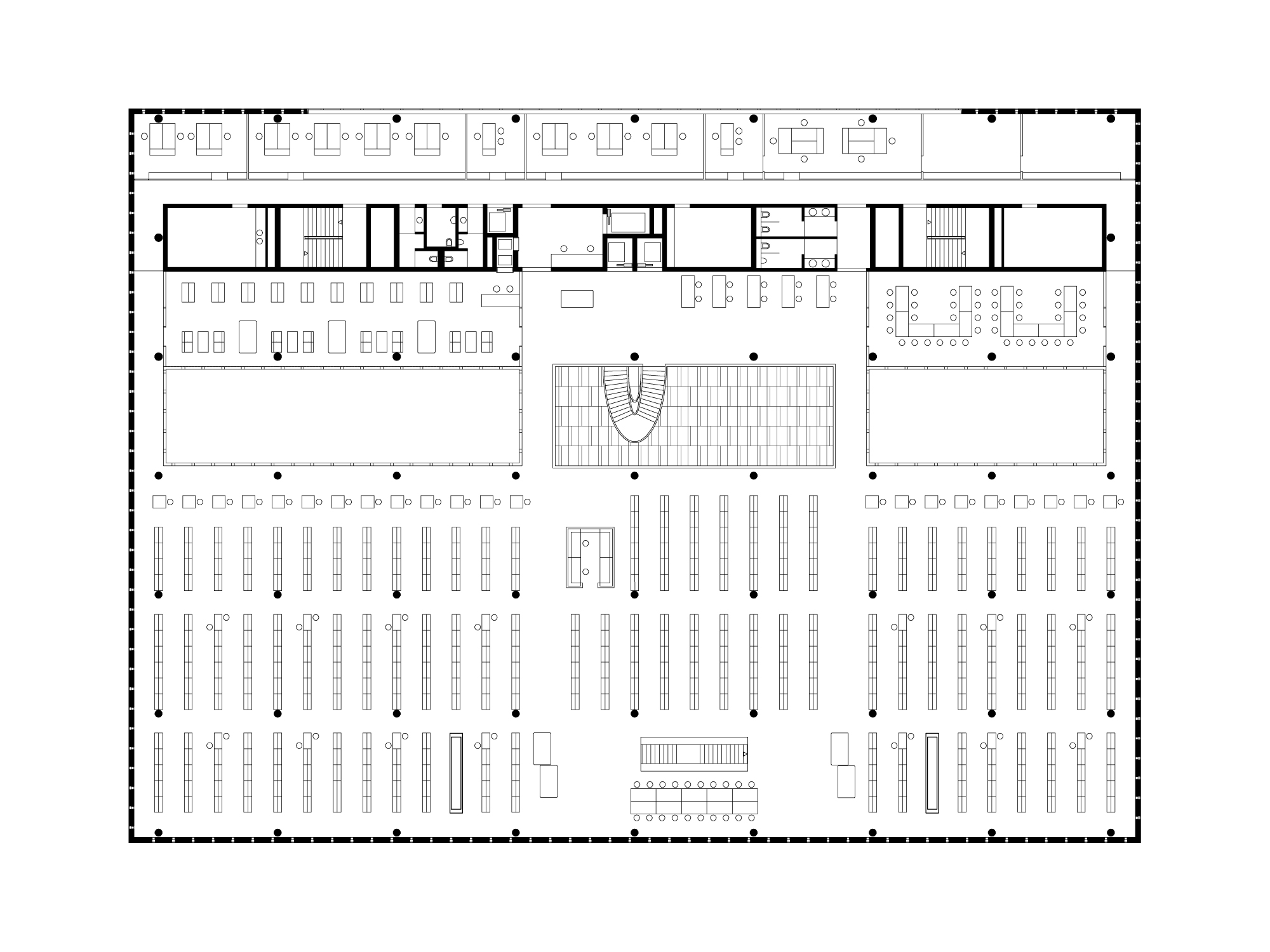 Located at the intersection of the east-west axis that forms the spine of the campus, and the north-south axis which connects the recreational grounds by the river to land set aside for further university expansion, the library reinforces the axial organization which has so far been poorly articulated. A central university square at the foot of the library, the FORUM, generates a civic gathering place that opens onto the library's grand three stores atrium.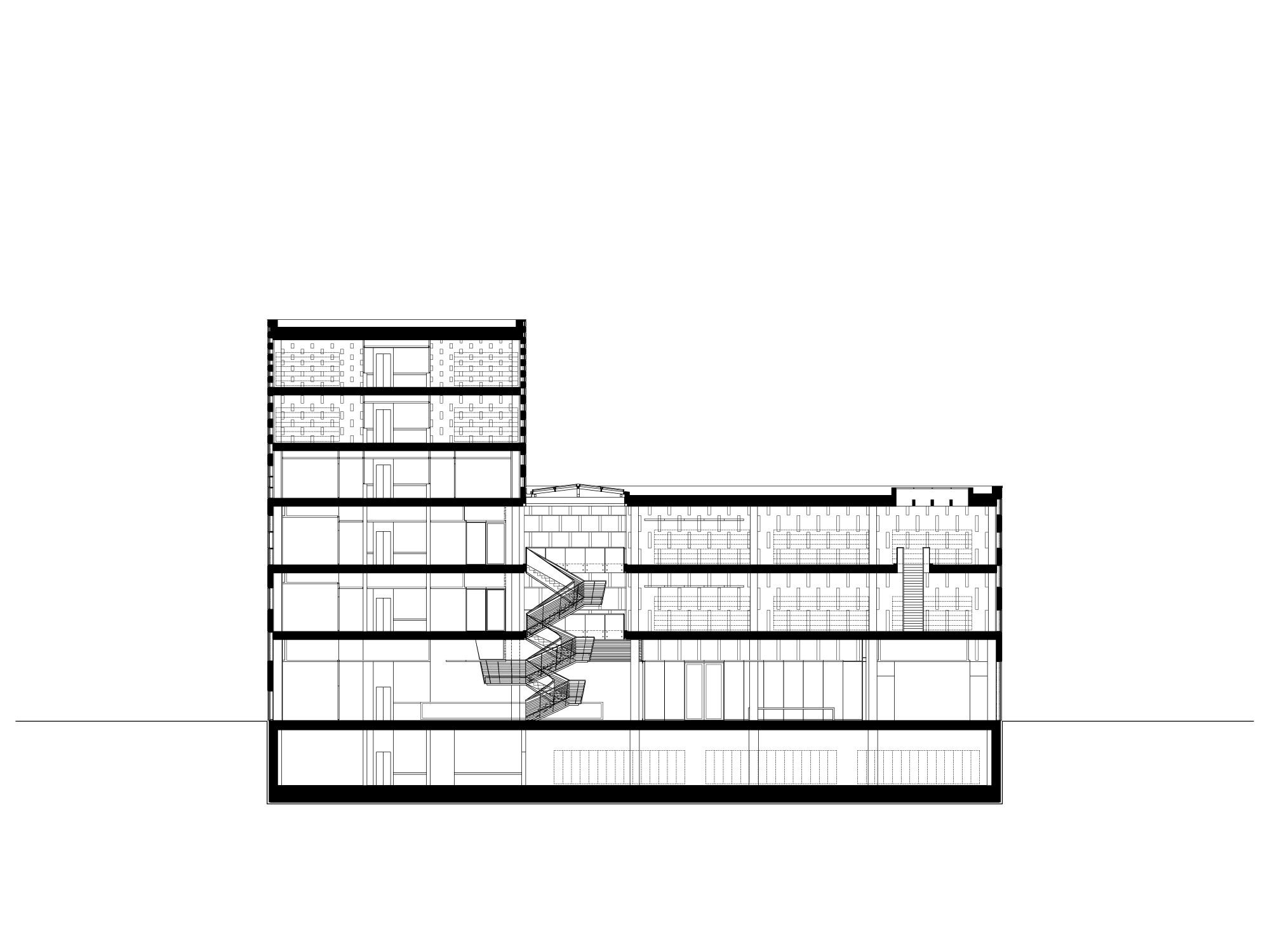 The height of the library has been determined by the average height of buildings on the university campus. The north elevation surpassing this height is directed towards the FORUM and houses the library's closed stacks. This elevation emphasizes the rank and function of the FORUM and is in dialogue with the existing tall buildings which close the east-west axis.
The facades, clad in a repetitious fabric of rich kahan red sandstone, relate to the raw clay bricks on the neighbouring buildings without the connotation of scale inherent to a singular brick element. The exterior treatment abstracts the building's function of organized book storing while introducing a notion of mystery inseparably connected to books. 
The lack of discernible scale produces a monolith when seen from afar that is gradually familiarized. Details such as the decreasing proportions of the façade tiling, the irregular cut of the sandstone slabs, as well as the windows carefully nested inside become visible.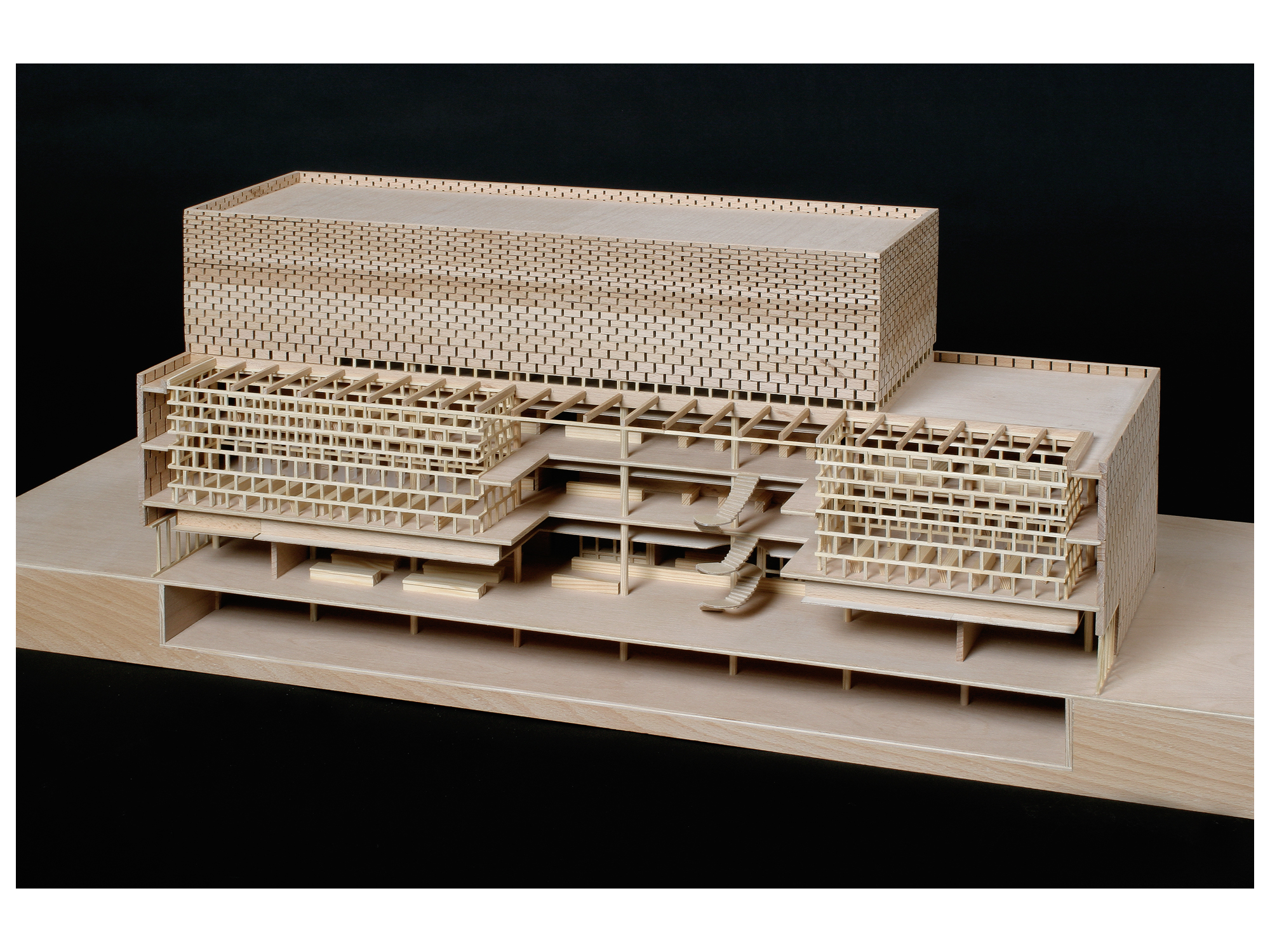 The fenestration projects a stunning patchwork of light onto the FORUM at night, yet in the daytime allows diffused light to permeate into the library's reading rooms. The resulting strongly introverted interior composition of the library floors focuses one's attention onto the books while calming the space. Partial isolation from the external world not only influences the atmosphere within but also introduces a flow of time detached from the pulse of the surrounding city. 
architect:
HS99 Herman i Smierzewski, Koszalin
project architect: 
rafal sobieraj, wojciech subalski
project team: 
adam kulesza, jacek moczala, wojciech slupczynski
foto: 
jakub certowicz, tomasz zakrzewski,
status:
completed
Building Footprint: 2 910 m2
Net Floor Area: 12 273 m2
Gross Floor Area: 13 260 m2
Volume: 62 560 m3
Maximum Volume Storage: 2 000 000 books
Publications: 
Kontext a Typologie, KRUH, Texty o Architekture 2015-2018 
Michael Webb, Architecture Renaissance for Poland, The Plan 099 / 2017
East Centric 2016, Arhitext 4/2017    
 Form Follows Freedom,
Nuova Biblioteca del Campus universitario di Katowice, I'industria delle costruzioni 442, 2015
CINiBA, Zhang Dali, Wang Panqing, Masonry: Material and Structure, 2015
CINiBA, Katowice, Poland, M. Roth, Masterpieces: Library Architecture + Design
Scientific Information Centre and Academic Library, Arhitext 03/2014
Co architektura mówi o nas, Gazeta Wyborcza 03.10.2014
Kolekcja Architektury Murator, Architektura 10/2014
Przestrzenie wiedzy, Autoportret 44
Metropolregion Katowice, "interior design 07-08/2013" by Detail and Grid
Mies van der Rohe Award 2013, Barcelona 2013
Special space, "Modern Decoration" 2/2013 (273)
Polish Architecture in transition, Mark 42 – 02/03 2013
Zycie w Architekturze, Architektura 02/2013
Rudzielec z Katowic, AiB 12/2012
Best polish architecture of the 21st Century, Gazeta Wyborcza 07.12.2012
How to read a Library, Gazeta Wyborcza, Katowice 05.10.2012
Biblioteka w Katowicach, Architektura 10/2012  
Do czytania i oglądania, Polityka 23.05.2012
+12 731 716 Euro, Era 21 02/2012
Update: University Libraries, A10 #44 – 03/04 2012
101 Najciekawszych Polskich budynków dekady, Agora, 2011
Architektura Roku Wojewodztwa Slaskiego,  Arch #9 2011
Lucidus Ordo, Bibliotheca Nostra 2(24) 2011
Biblioteki świata, które trzeba zobaczyć, Newsweek 9/2011
Intrygujaca fuga na 4004 okna, R. Nakonieczny, Almanach 2010
Knihovna Slezske Univerzity v Katovicich, era 21 6/07
Galeria Jednego Projektu, MA Wrocław, 2007
1000x European Architecture, Verlags Braun, 2006
Emerging Polish Architecture, Word Architecture 05/2005
University Library, Katowice, A10 04/2005
321, Nowa Architektura w Japonii i Polsce, Manggha, Kraków 2005
Biblioteka UŚ, Architektura i Biznes 02/2003
Exhibitions:
2015 Polska. Architecture, Baku
2014 Architektura's Collection in Museum of Modern Art, Warsaw
2014 Architektura Małopolski i Śląska, Kraków
2013 Mies van der Rohe Award 2013, Barcelona
2011 Architektura Roku Województwa Śląskiego, Katowice
2009 Wild, Wild East, Hamburg
2005 Emerging Identities-East, DAZ Berlin
2004 321, Nowa Architektura w Japonii i Polsce, Kraków, Rzym, Mediolan
2004 Biblioteka Uniwersytetu Śląskiego w Katowicach, Muzeum Architektury, Wrocław
2003 Młoda Architektura Polska, Muzeum Architektury, Wrocław
Awards: 
2013 "Annual Public Space Award" of the 11th (2013) Modern Decoration International Media Prize
2013 CINiBA shortlisted in Mies van der Rohe Award
2013 ArchDaily Building Of The Year 2012 – Museums and Libraries category
2013 Nominacja do Nagrody im. Miesa van der Rohe: CINiBA
2012 Grand Prix Życie w Architekturze za Najlepsza Realizacje 2000- 2012: CINiBA
2012 Główna Nagroda Życia w Architekturze za Najlepszy Budynek Użytecznosci Publicznej 2000-2012: CINiBA
2012 Nagroda SARP za Najlepszy Budynek Wzniesiony ze Srodków Publicznych: CINiBA
2012 Nagroda Polskiego Cementu: CINiBA
2012 Laureat Nagrody Architektonicznej Polityki: CINiBA
2012 Pierwsze Miejsce w Plebistycie Architektonicznym Bryła Roku: CINiBA
2011 Grand Prix Architektura Roku Województwa Slaskiego: CINiBA